Check out if you need an eVisa to travel into Myanmar
The validity of eVisa is 90 days from the date of issue. With eVisa you are entitled to single entry into Myanmar and maximum stay of 28 days (for tourist purpose), or 70 days (for business purpose) from the date of arrival.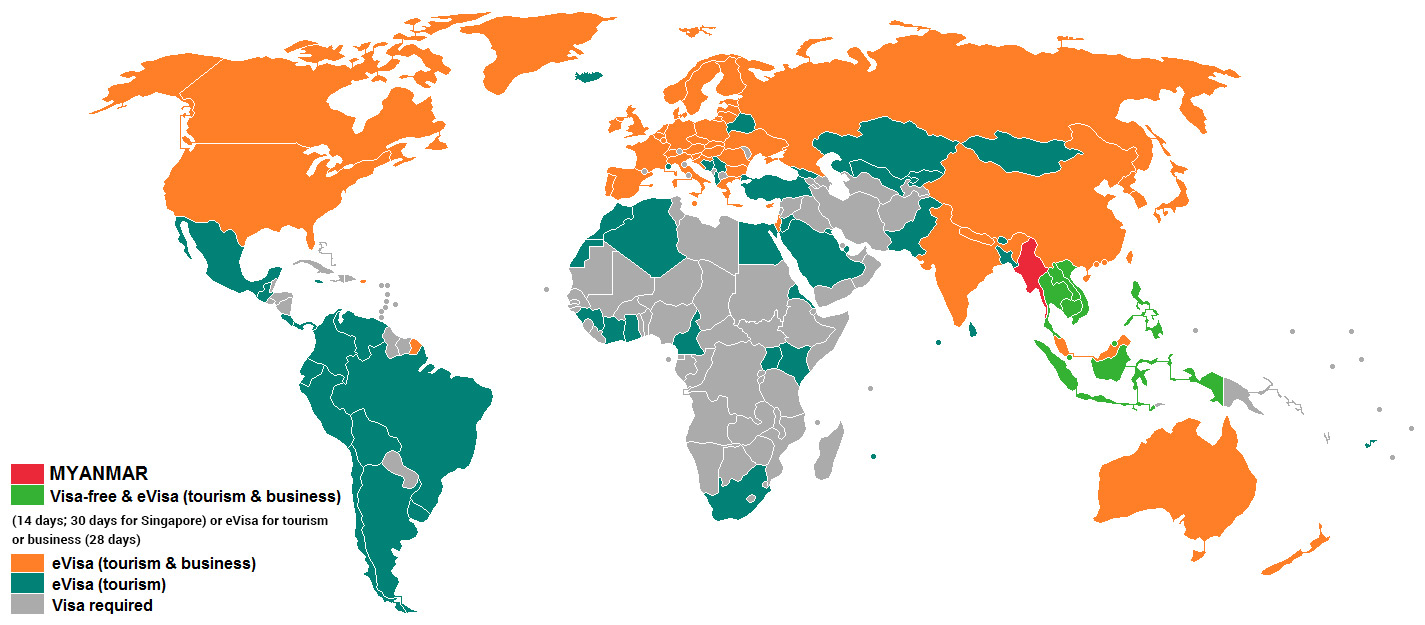 Eligibility
Citizens from these countries are eligible to apply for an online e-visa: (
tourist & business purpose
,
tourist purpose only
)
eVisa is currently valid at 8 ports of entry:
Myanmar's three main international airports:
Yangon
Mandalay
Nay Pyi Taw
Overland travel to Myanmar via the Thai-Myanmar border points of:
Tachileik Land Border Checkpoint
Myawaddy Land Border Checkpoint
Kawthaung Land Border Checkpoint
Overland travel to Myanmyar via the India-Myanmar border points of:
Tamu Land Border Checkpoint
Rih Khaw Dar Land Border Checkpoint
If you are entering Myanmar by other point, you must apply for a regular visa. You are not able to use eVisa to enter Myanmar via seaport.
Your passport must be valid for 6 months.
You must stay in registered hotels, motels, inns, guest house and resort during your stay in Myanmar.
Ordinary passport holders from the following countries are giving visa exemption
(mostly up to 14 days): Brunei, Cambodia, Indonesia, Laos, Philippines, Thailand, Singapore (30 days), Vietnam.
Please note that to qualify for a Business Visa, you must be invited by a registered local Myanmar company and approved Chamber of commerced association. NGO/INGO invitation letter are not accepted. The Inviting registered company must have at least 3 months validity of registration. To apply, you must submit both an invitation letter and company registration certificate from the Myanmar company Who is inviting you. The invitation letter must be addressed to you by name, from the local Myanmar company. The letter must briefly explain the time frame and purpose of your visit. No other information is needed.